Are you a Beginning Sewer?
Do you know how to sew a button?
Do you know how to sew a zipper?
I could start with the most common advice which would probably be found in "Sewing For Beginners" book somewhere - start small.
OR
You can dream a little bigger because you probably want to start sewing and don't want a "baby" project to be your first project as a new to sewing creator!
You can read all about The Pattern that Changed My Life which was my first project EVER. Literal very first time using a sewing machine in my life and I made a quilt - a fantastic, memorable, life-changing quilt!
I could lie and say it was SEW easy and I picked up a sewing pattern and knew right away what to do, but alas that was far from the case.
FIND A FRIEND - I do not say this lightly! (see it's kind of shouting it right there!) You need a mentor/teacher/wise woman to walk along this sewing journey with you. It can be a family member (hey Mom!!) or even Google/Youtube. You have to figure out what you don't know and they are the way to do that. With endless questions and tutorials you can begin learning and working out pieces that will help you!
.
2. FIND A PROJECT. You're probably like yes I maybe know the scale of my project (big or small) and some details but I'm meaning find a project that fires you up. That you know someone would love the homemade gift or homemade toy. A sewing project you would be so proud of knowing you accomplished. A beginning sewing project for a child in your life who might overlook any small mistakes (not that there would be any anyway, right?!)
Luckily there is a little known secret for being happy with your quilt. If you are here chances are you have something picked out or are interested so I urge you to dig deep and keep motivated with the end in mind.
3. FIND your commitment. Well here's the kicker. You have a great project, resources, and don't realize the time and motivation it takes to finish and finish well. Nobody wants to burn out on their first project!
This is the time to step back, give yourself some grace - this is a beginner sewing project after all (!) - figure out what to do when you come to kinks in the road. Did you lose motivation? Do you not know the next step in the sewing pattern? Having resources in place can help you overcome what may be obstacles.
Once you have a great beginning sewer project - then read the 5 things to do before you begin a quilt!
Looking for an easy sewing pattern might be one thing but if you are looking for a beginning sewing project that is not too tough but definitely creates a jaw-dropping reaction (should you want to sew for (grand)children in your life then check out our Cushy Career Doctor Pillow Pattern - perfect for a kid's pillow cover and you can work on beginning sewer skills!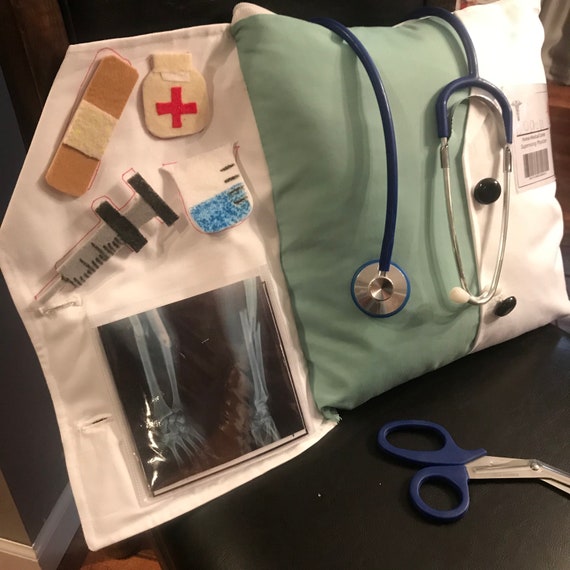 This DIY Kid's Mesh Bag too would make a great first how to sew for beginners bag! My kids LOVE these and we use them around the house for stuffed animals and especially in summer for swimming supplies! It uses the beginning sewing skills of sewing on bias tape and gathering.