You downloaded a PDF Printable Sewing Pattern now what?!
Etsy is a phenomenal marketplace for sewing patterns. You might remember purchasing patterns in paper form at a fabric or craft store (and you still can!) but there is convenience in a on-demand version of an item that you might see! As a seller of printable patterns there can be some finesse in this niche market.
For example, say you really want to make this kid's drawstring bag because you love the water bottle cup holder on this one: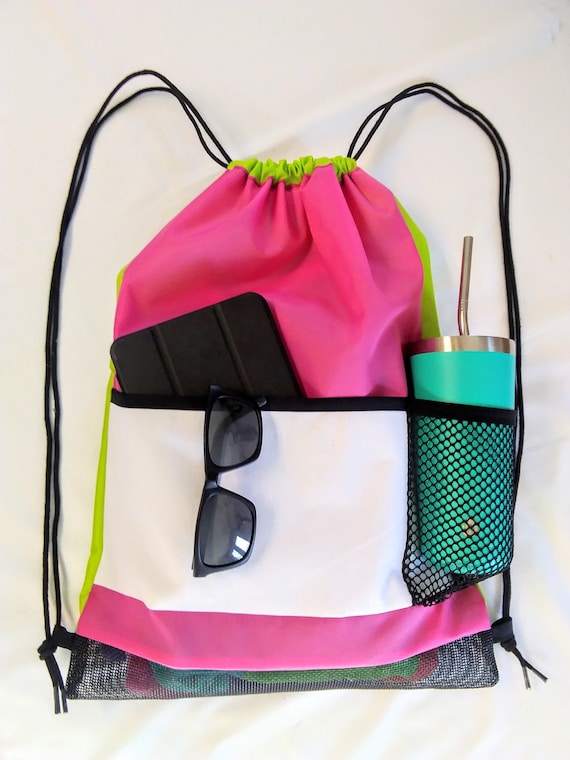 You can go right to Etsy and purchase pattern ready to make in your own home. The level of on-demand can be awesome! Exactly the same as what would be printed but lower cost. There are some awesome PDF sewing patterns that I am so anxious to try (like making a table tent for my boys!) and my local craft/sewing/quilting store couldn't carry because of the quantity. Those specialty patterns are great very specific to what I am looking for.
The customer has the option to print the kid's drawstring bag pattern immediately or even save the kid's drawstring backpack pattern to make at a later time. The level of flexibility in the document can be great.
*TIP* Make sure to save and label PDF printable patterns that you purchase online. These can easily get lost or forgotten about - so best to save a sewing pattern you like or print off right away!
I love the virtual repository I have. I can access the pattern at any time and quickly find what I need - either in my own files or on Etsy as well. As paper easily gets lost in my sewing space a sewing pattern I can view digitally or print off as many times as necessary is invaluable.
Let's not forget - you can zoom in! Totally easy to do with any PDF reader but especially Adobe!
Need to see close up - ZOOM IN
Need the font bigger -

ZOOM IN
Annotating tools can be your best friend - highlight, zoom, mark through and save for later.
Maybe it's the millennial in me but they feel a little more connected. Purchasing from an Etsy "store" you really know who is behind the business. Many patterns include links and information about how to see or find more from the author if you like their printable sewing patterns. You almost build a relationship with the store and know they carry quality PDF patterns that you might be interested in the future.
You can see real pictures of who you are purchasing from and who you can get support from or ask questions if needed. Sharing a creative idea or pattern can be isolating (just the internet itself!) but this factor and trust between a great bond.
Another important piece for some patterns may be printing instructions. Make sure to follow all directions associated with printing especially if you need to print at a certain percentage to get accurate results! We love these instructions - should you need them!