Every year I donate 2 quilt tops to our church for our annual picnic. The quilting ladies want the quilts to be at least 90" x 108" and they hand quilt the quilts!!! My mama always told me that whatever you donate to the church comes back to you two fold so I should never go broke!!!
The church sells tickets - they call it a fortune wheel - and they spin the wheel and the winning number wins the quilt. I always take pride in my quilt tops selling tickets out fast!!!
This fence rail with a piano key border was one of the 1st quilt tops that I sewed together. I like it for a couple of reasons. 1st of all, it's super easy and you can strip cut or you could be like me. I always have scraps cut to certain sizes and just used my scraps that were cut 2.5" x 7" to make this quilt. Therefore, since it was made mostly from scraps, it cost me very little and still looks pretty!!!
I love to put my sewing skills to use for my kids and grandkids during the year as well. Recently thei
r swim bags
have been put to such good use! They are a great requested item and make great picnic items for auction as well - so easy to personalize!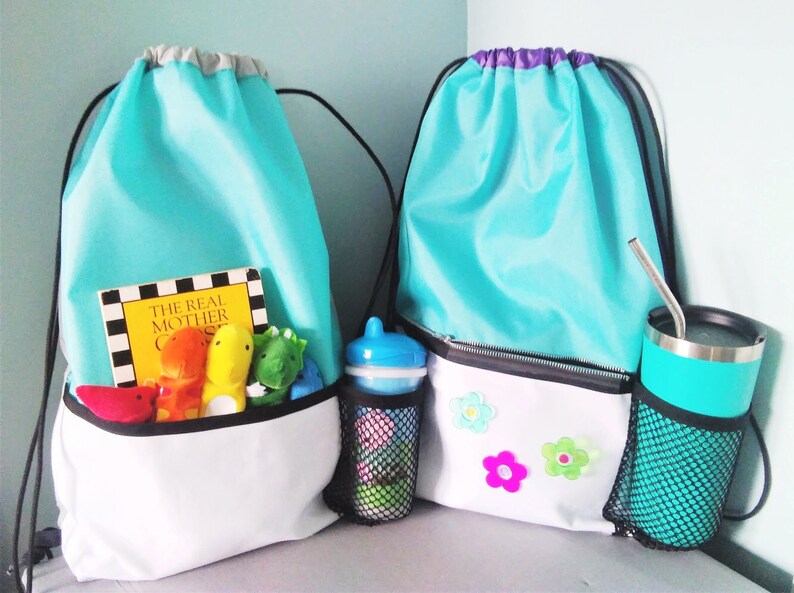 I don't really have a name for this quilt, but it's composed of blocks of 4 or blocks of 16 squares. Squares are always easy and here again, it's a scrap buster which is always a good thing!!! Don't look at the border because it has the ruffling thing going on. This was before I knew about measuring borders instead of just sewing them on and cutting them off. Live and learn!!!
Some more scrappy quilts. I don't know the names of these patterns either. Can you tell that I don't like making the same quilt twice and I usually just search the net for quilts that I like. I personally love scrap quilts so that's what I tend to make!!! I like the piano key borders also. It's kind of my trademark since I play the piano/organ for church!!!
This is probably one of my favorite scrappy quilts simply because of the aqua background color. I took some chances (bought some tickets) on this quilt hoping I could win it back, but no such luck!!! This pattern is the
snowball pattern
and is really easy to make as well.
This one was super easy. It's just squares set on point and I used my leftover material from the quilt I sewed for my daughter. I tend to always over buy - hence all the scrap quilts!!!
I love these 2 quilt tops because of their vibrant color!!! These were not so cheap because I bought specific fabric for them. I made the 1st one and couldn't get the points to line up so I added the sashing between the blocks. I usually don't make 2 of the same quilt, but I liked it so much and was determined to make it again and get the points lined up!!! This one was a little harder and a little more costly, but I know they will sell fast and someone will love them as much as me!!! I did buy the pattern for these. It's Sunset by Julie Popa.
These 2 are both disappearing 9 patches. They are super easy to make and if you make them with scraps, they can be really cheap and depending on fabric and they way you set the disappearing 9 patch together - they can look so different so I didn't mind making 2 of this pattern and will probably make more disappearing 9 patches!!!
This is the 1st quilt I made for the picnic. Since the quilting ladies didn't want to get into raffling baby quilts they called it a wall hanging and raffled it that way. I didn't care because all I wanted was for people to like it and buy chances on it and make some money for the church. The story behind this one is that I use to applique it, but my machine broke so I started making these with fabric paint and would add shoe strings, buttons, etc. to embellish it and embroidery around the pieces to outline it. This particular one, is one of a kind for my son who was a pitcher in high school and college. The ones for the picnic were similar, but Fred Bird wasn't pitching. I guess you can tell we are St. Louis Cardinal fans!!!
That's it to date for my collection of donated picnic quilts. More to come in the future. It's so gratifying to know you are doing what you love and doing good for others at the same time.